How can you clean what you can't see?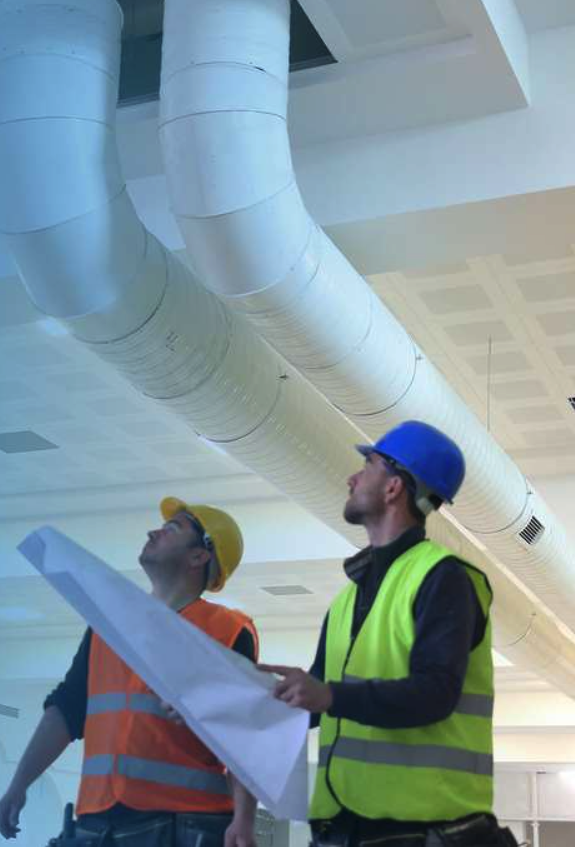 With our range of products specifically targeted at creating cleaner, healthier, high quality air in your building and combatting COVID-19.
The cleanliness of our spaces is more of a concern than ever before. But, how do you keep the air in your building clean and healthy to reduce the risk of spreading disease and infection through what we can't see or touch?
With air purification, filtration, sterilization, and controlling humidity – all proven effective ways to reduce COVID-19 transmission through the air.
Solutions for Any Space
Projects Like Yours
Providing the tools for clean, healthy, high-quality air in schools, healthcare facilities, and office buildings in and around Regina and Saskatoon is not only our passion, but our pleasure. Our customer service is unparalleled in the industry and we want to work with you.

Who We Work With
Architects
Ensure clarity and save time and money when working with us through a job.
Engineers
We provide same-day responses to our engineers from equipment selections and AutoCAD shop drawings to specification reviews and general inquiries.
Building Owners
We specialize in replacing existing equipment and helping you find the best solution to meet your building's needs.
Facilities Maintenance
The maintenance team's insight needs to be considered when not only fixing equipment, but the design of new equipment being installed. Our service technicians are always available for any further questions or concerns.
General Contractors
Estimators, project managers, and construction teams are all people our technical sales team work with to ensure a profitable and satisfactory outcome when a job is finished.
Mechanical Contractors
We ensure clear and organized communication, arrange of shipping, job site visits, start-ups and teardowns and more.
Let's Talk About
The Right Solution For You
Call us in Regina: 306-721-7980
Call us in Saskatoon: 306-931-4773
or
What Our Customers Are Saying
"During the design of the new Jim Pattison Children's Hospital we were challenged to develop a filtration strategy that maximized filter efficiency while also helped us control energy costs. The long service life, low pressure drop and effective filtration made the Dynamic V8's our choice for the project. The project team faced the additional challenge of a helicopter landing pad near the air intakes.
HVAC Sales was knowledgeable and professional with excellent customer service through the process. They were very important to the process of selecting equipment and providing support throughout the design and construction of the hospital."
Chris Conley, P. Eng. Principal Engineer at Daniels Wingerak Engineering, Saskatoon.
Products That Work For You
Condair
Gas, electric, adiabatic, evaporative, steam to steam, and ultrasonic humidification solutions from the leading manufacturer of humidity control products. A consistent relative humidity of 40-60% decreases viruses' and bacteria's ability to travel and reduces the risk of infection.
Plasma Air
Uses bipolar ionization to kill viruses, bacteria, mold, VOCs and mitigate odors. Plasma Air can easily be implemented into any type of air moving equipment large or small.
Dynamic Air Quality Solutions
High efficiency polarized filtration for new equipment and retrofits that provides one of the highest levels of filtration available to reduce the transmission of bacteria and viruses at an affordable price. Filter changes and maintenance are significantly reduced with Dynamic Air.
UV Resources
Ultraviolet lights destroy airborne viruses, germs and other microorganisms for greatly increased air quality. This is a cost-effective and energy efficient solution for cleaner air that can be used in central HVAC systems or as an in-space solution for areas like waiting rooms.
About HVAC Sales
Since 1982 we have been the preferred supplier of heating, ventilation and air conditioning products and services in Saskatchewan. With full support in both Regina and Saskatoon, we are able to serve the whole province from our two home bases with the customer service our clients know and love.
Our founder Ron Smith started the company with a focus on providing innovative solutions and exceptional customer service. This along with family values, honesty and integrity guides our business and ensures that our staff and client satisfaction is always top of mind. We are also active in supporting many charities and organizations in our communities and throughout Saskatchewan.

Let's Talk About
The Right Solution For You
Call us in Regina: 306-721-7980
Call us in Saskatoon: 306-931-4773
or